Irish Christmas Gift Guide 2021
excited about this season.
Caroline Duffy has brought her amazing floral artwork to the fashion world with a bang! If you are a floral or colour enthusiast check her out.
Notebooks, prints, original work, calendars, scarves...get over there.



Christmas Gift Guide Featuring
Irish Makers & Artists.
Christmas gift guide for supporting Irish in 2021.
The Biscuit Community has been supporting Irish-based Creatives & Makers just like many Irish Creative advocates like Val Robus, Conor Pope, the crew at Lovin Dublin...to name just a few.
We are now sharing an all-Irish gift guide to shine a light on just some of our incredible community of artists, jewellers, designers, authors, and entrepreneurs that this country has to offer.
It is so important to highlight now more than ever, the importance of making that tiny shift in how we purchase.
If you choose just 2 gifts from a local Irish business then YOU, yes you are playing a huge part in the impact on Irish society.
We are getting the tinsel down, the lists are being made and no doubt many of you are already crossing things off.
Please make sure you support Irish small businesses this year.
Every purchase counts.

Let's dive into the Gift Guide now and remember even just 1 purchase from this list means you are having an impact on a small business, its suppliers, and families.
A gift option so dear to my heart - I 🧡 jewellery!
My top 9 Jewellery recommendations are...
1.Lucy Butler Artist - €730,00
2.Carmen Garcia - €75,00
3.Orla Mellon Art - €65,00
4.Brid Fanning Art - €120,00
5.Studio Maluda - €80,00
6.Jerusha Marley - €272,00
7.Olannmor - €45,00
8.Caroline Duffy Design - €135,00
9.Mary Duffy portraits- €95,00

Let's look at a diverse range of Irish-made offerings from Fashionistas to Cow Lovers |Sea Swimmers to Cushion Huggers!

Marie has created this really beautiful sculpture called THE HUG...you may have seen her on the telly. You can check her fantastic products all designed around her signature HUG piece. I love this Christmas decoration at €55 - it was something I sent to Australia this year. So special x
The lady with THE most patience - Jennifer from Arcadia script creates gorgeous personalized baubles...my fav - the ceramic: star version €17.00
She also does a cool red bauble too €14.40. What I love about Jennifers' offerings ( and there are loads ) it focuses on personalization and seriously cool calligraphy.
MISS POLLY & THE CROCODILE BOOK €8.99
My 4-year-old son LOVES this book and to be honest so do I!! It is a great story with a really beautiful underlying message of kindness & resilience.



INNER WILD STUDIO
Laura Seed has created cool hand-painted denim 🎁jacket designs €500 for the Astrology obsessed fashionista. Bring on the Aesthetic!
Yup, I have a pre-teen apparently it's all about the 'Aesthetic'!
Stan Notte Creations
Stan the man is having the craic with fashion from a Cork perspective ...like! Playing with language and pop culture, using hilarious tees, merch, and other accessories to celebrate your inner Cork!
RAGBONE DESIGN
Ragbone handmade products are created to be unique, beautiful, and useful. Everything is made from remnants, donated, and repurposed fabrics. 🎁 Butterflies Everyday Tote €32
IRISH CROCHET DESIGN
Chroí (Creee) is the Irish for Heart, and these designs are made with love and heart, especially for you. Hard-wearing and functional hidden under a layer of vintage delight. Unique fit and design ensure a wide range of fit. 🎁 APRON Vintage Style €54
Mad Jessie
MJ founded Mad Jessie, an outdoor brand creating unique, fun, hand-drawn and designed products designed to last, allowing people to feel great about who they are and embrace confidence and fun.
Carmen Garcia
Like a lot of us now, Carmen believes the fashion future is in sustainable, ethical, slow fashion. Hand felting is, as well as a sustainable process, a process that invites us to slow down. Allowing time, hands-on their own were able to create the alchemy, and transform fibers into felt, with just the help of water and soap.
Dani Albu
The Leather Studio of Kinsale brings the fresh spirit of fashion through the genuine leather bags and accessories designed and handcrafted in their workshop, in Kinsale. Once inside, you are greeted with the wonderful and natural "perfume" of leather.
Jerusha Marley is based on the majestic West Coast of Ireland. Her artworks are inspired by the local landscape, shamanic practice, and Celtic mythology.
Driven by a great interest in Sacred Geometry and how Science meets Maths and in turn, both meets Spirituality. Inspired by some of the great artists such as Leonardo Da Vinci and MC Esher.
🎁 Luxurious Bee Lambs Wool Coat €335

Catherine Dunne
Catherine is an Artist behind gorgeous greeting cards, prints, and children's books made in Ireland. Her love of the sea has inspired these high-quality aprons. 10% of sales go to Sea Shepard which helps protect marine wildlife.
🎁 Apron for Ocean Lovers € 40.00
Hillpoint design
A unique, handmade, personalised piece of art using photographs from any occassion ~ weddings, anniversaries, christenings....whenever memories need to be cherished.

🎁 Dun Laoghaire Sea point €120.00

Emma Higgins
Happy, Vibrant, and Colourful Art for your home. Emma gets all her inspiration from the colour she sees all around her. It can be in nature or in man-made objects.

Check out her prints, originals, notebooks, cushions, and jigsaws!! Something for everyone.
Karen is a passionate artist inspired by many artists, including Amedeo Modigliani, Kees van Dongen, Klimt, Egon Schiele, and Frida Kahlo. Karen is currently settling into her new gallery space at Cliff at Lyons, Celbridge, Co Kildare.
Ian Delaney
Ian is a self-taught Irish artist from Dublin. He founds his inspiration in the coast and countryside of Ireland.
Gloundine Studios
Katie is a visual artist working in Cork, Ireland bringing mixed media, encaustic, and acrylic pieces to life! Katie creates abstract and abstract impressionism pieces, inspired by Irish living.
Fran Halpin
Fran Halpin is a Dublin-born fine artist of immersive fine Art perspectives, Pebble painting, Seascapes, and Ocean paintings. Much of her painting skills are used in the form of murals.
Louise O Sullivan
Louise is a self-taught artist. Formerly of Howth and now living in the equally beautiful Skerries.
The fun-loving Waterford-based artist Kiki has this great Christmas bundle.

A framed original piece, pack of 4 cards, and a mindful notebook all for just €110.

Fine art photography like Louises always stops me. There is almost a mood attached that takes me to another place.
I love this Sleigh piece €80. Check out her vast gallery of thought-provoking photography.

THE ABSTRACT LOVER the stunning original below €250 👇🏼
Also available: beautiful gicleé prints produced from Ann Maries really cool original oil paintings. They are printed on fine art quality German Etching Hahnemuhle paper €55.00
Ann Marie is offering free shipping to Ireland and the UK for Christmas.

What a cool offering: A building portrait commission! Love this idea. We are all attached to a building perhaps we were married in, studied in, or have some connection to.

🎁Unframed €150 Framed €200
Living Earth Photography
Aidan is a landscape and product photographer based in Wicklow Town, Ireland. Through the lens, Aidan looks to creatively capture the wonder, emotion, and unique beauty of the landscape.
Healing Creations
Patricia Fitzgerald is a Mandala Artist based in Dublin, Ireland. As well as creating her original and highly powerful work, she also combines the craft of Mandala with meditation and mindfulness practices, offering you an innovative and powerfully transformative experience.
Bridgit Shelly
Brigid has been working as a registered artist for over twenty-five years and feels privileged to have her practice and gallery on the sunny side of the street in the beautiful village of Ardmore in Co. Waterford. She loves old stories, she loves the land, she loves the sea and she adores cows!
SIAR Photography
I love cows..here is another gorgeous print from Siar photography.
SIAR meaning "West" or Westward" in Irish, is a range of contemporary photographic prints of Ireland founded in 2019 by husband and wife team, Gary and Aoife.

Fiona Concannon
Fiona Concannon, grew up in Spiddal, Co. Galway on the West coast of Ireland - an area renowned for its outstanding natural beauty. Fiona is inspired by her natural surroundings and has painted a range of landscapes, sunsets, wildlife, and heritage sites.
Kim Gaffney Art
Kim is a wildlife and landscape artist based near Oldcastle on the Meath/Cavan border. She creates paintings using oils on canvas and enjoys bringing animals and the countryside to life.
Market Street

Market Street is a small Irish business, based in Dublin, specialising in unique and personalised gifts for all occasions. It is a marketplace for the best of Irish designers, artists and creators to sell their amazing products, and was launched in 2019.

🎁 Family Coats €40.99


Vanessaree
Concept Jewellery DesignInspired, contemporary jewellery that is imagined and handcrafted from precious metals and alternative materials.
This Silver-plated expandable bangle can be personalised with 3 pieces, you can have it with 3 charms, (Mam, Feather, and Star) the charms are silver-plated, customers can pick the birthday month of their choosing, there are two sizes available, medium and large. This bangle comes in a velvet gift bag. They make a lovely gift to give you your mother, a Mam or a gift for yourself.


Sue Van Coppinhagen
Inspired by the natural world, Sue's delicate yet vibrant watercolors reflect a strong emotional connection to her environment: local beaches, farmlands, and woodlands, and the plants and creatures encountered there on daily walks, emerge in her very personal and evocative paintings.
Mud Bugs is Ireland's ONLY nature-inspired activity box available as a subscription or as a one-off purchase. Mud Bugs HQ is based in South Leitrim in the Northwest of Ireland. Jess, the founder, develops and creates these resources and products for children and families in Ireland.
This deluxe Christmas gift box is 100% made in Ireland and features some of our favourite sustainable brands.

FieldDay Diffuser 100ml Winter
FieldDay Large Candle 190g Winter
Bodhi Blends Winter Warmer Spray
Palm Free Soap Bar Féile festive soap
PS Coffee Roasters Bag of Coffee
Bean & Goose Dark Chocolate Bar Spicy Hazlenuts
Faerly Single Large Beeswax Wrap (patterns vary)
Janni Bars Snowflake Shea Butter & Cinnamon Soap
Faerly Irish Wildflower Seed Bombs 10pk
Irish Makers Ultimate Unwind Pamper Hamper €100
I am such a planning NERDY pants so I am thrilled to see this!
Two options for your 2022 Wallplanner available - with 50% of proceeds going to the fantastic Peter McVerry Trust.
Check out Mary's calendars and support this fantastic trust HERE

€25 including postage
OlanMor
Olannmor is all about chunky, natural wool. Anouk O'Connell & Frederique van Buuren, have teamed up to introduce beautiful chunky merino roving products to the Irish market. Living in the Wicklow Mountains makes scenery their biggest inspiration.

A beautiful 🎁 Silk Obi Belt €89,00 by Jerusha Marley masterfully crafted using the antique Indian Saree fabrics.

Lizzie Bee
LizzieB is an Irish, family-run business, specialising in the design and production of a variety of natural, handmade, scented products.
Susie Buttons
As the name suggested Susies's art is all about buttons. The colour, uniqueness, and fun they bring with them. Susie lives in Leixlip, in Co. Kildare with her husband and 3 children.
Hazelrocks jewellery
Living in rural Co Roscommon, Ireland, Hazelrocks creates jewellery inspired by my Celtic heritage and history, the gentle landscape, and the flow of the seasons.
🎁 Haematite Angel necklace €28.00
Button Pics
Button Pics are created by Ann who lives with her family in the wonderful seaside village of Donabate North County Dublin. Experimenting with ideas such as the button feet and hearts allowed Ann to develop her unique style and expand her range of Button Pics.
Froggle & Co
Froggle & Co was founded by Jayne, a mum of two, and is based in the coastal village of Blackrock, just outside Dublin in Ireland where the full collection is created from concept to design and through to production.
🎁 Welcome Little Christmas One €55,00
Isabelle Gaborit
Isabelle is a contemporary artist, though her preferred medium of encaustic is ancient. In her studio located on the scenic shores of Lough Derg, County Clare, Isabelle has rekindled the ancient painting process of Encaustics, an immediate and tactile painting method using molten pigmented beeswax.
Aileen Donavan
Aileen is a visual artist mostly inspired by her surroundings and environment. She works mostly with a glue gun to build up a painting to give it a 3d effect. Recently, Aileen has opened a pop-up art Christmas gallery shop in the Gallic Kitchen, Abbeyleix, Co. Laois. Hop in, and have a look!

Maria Jordan O Reilly
An eclectic old bird, Maria Jordan-O'Reily is a creative soul who uses visual art along with other forms of expression to examine her journey through life.
Welcome to Merry Angels. Siobhán's business name comes from her maiden name which is Merriman combined with her love of Angels. Siobhán is a self-taught creator of jewellery, all of which can be custom-made to your design. All jewellery is nickel-free and hypoallergenic.

🎁 Double Angels Wings

Elaine Waters
Elaine lives close to The Phoenix Park in Dublin and finds lots of inspiration for photography and painting from vibrantly coloured nature and the beautiful scenery on her doorstep.
🎁 Mixed Media Art starting at €95.00

Donna McGee Fine Art
Original landscape & abstract paintings inspired by the timeless beauty of the Irish landscape
Check out her amazing range of abstracts here. Donna has also seascape & landscapes that prove very popular. Prices range from €85
Nine Arrow
While traveling in Japan, Irish illustrator Catherine realised just how much she missed the Irish language.
You can order her prints and learn some interesting 'cupla focail' along the way or put in a request for your favourite Irish phrase.
🎁The An Ghealach / The Moon print costs from €12.50.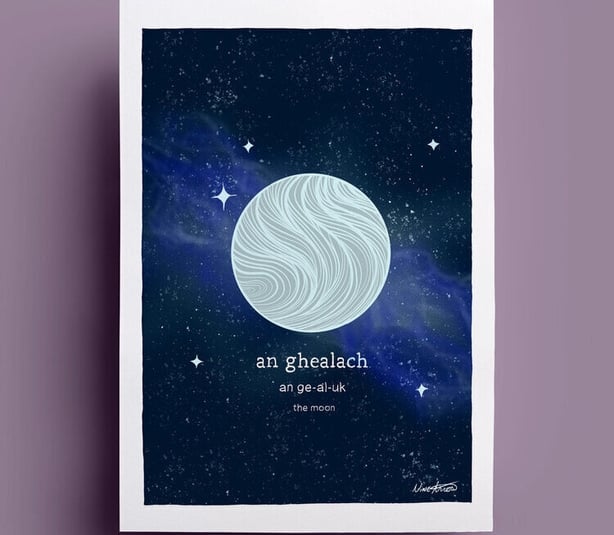 Nine Arrow saying it in Irish...bula bus! Christmas cards

Tails & Tales
Antoinette is a dog-obsessed artist, writer & researcher from Dublin. She lives with her husband, kids, and our rescue dog Buck. Antoinette created Tails & Tales as a space to explore, imagine, create and make. 🎁Doggy cards €3.50


Quirky fun cards - Miss Leela Sassafras
Pins, Puns, Prints, Cards, and CraicMiss Leela Sassafras creates crafts and art full of her humour and imagination. Inspiration comes from the love of bad puns (or good depending on your opinion!), nostalgia, and her local surroundings. Sligo, Ireland
Wild Watermelon designs
A Dublin-based creative business that produces design-led greeting cards on high-quality, recycled paper. Printed and designed in Ireland for those who care about family, friends, and the planet!
🎁 Together This Christmas €3.50

Hilary is an artist and surface pattern designer based in Dublin, Ireland. Her artwork is very much inspired by nature, flowers & plants. Hilary's Art prints and greeting cards are printed in Dublin using FSC Certified paper, the solid wood frames are produced in Cork. Packaging is minimal and plastic-free.
🎁 Hilary Glynn 6 pack of Xmas cards €16.50

An Irish illustrator with a wicked sense of humour. Check out his funny cards to bring giggles this year.
Simply Individual
Helen was tired of giving the same baby presents. So, when a friend of hers had a baby, she wanted to give her something that was not just personalized for her son but would be a nice addition to his room and something he could always keep. That's how "Simply Individual" was set up.
Helen customizes her framed pieces with high-quality long-lasting frames.
And that is a wrap folks!
Thanks to all the Biscuit Backers who took part in this Gift Guide.

Please make a mindful shopping choice this year to help even one small business by choosing an Irish maker instead of high street mass producer.
One purchase can make a HUGE impact - don't think it won't.

If you would like to find out more about Irish Creative work, the people behind it, and how our Creative community deals with running a business in today's environment make sure you follow us over on Instagram.

If you are a maker and want to know HOW to take away the confusion of Instagram check our Instagram tactical training over HERE.


Have a safe and laugh-infused Holiday and as much as you can get Creative with your loved ones and enjoy the NOW.
#keepcreative
The Biscuit Community












Categories: Christmas gift guide 2021