CASE STUDY : 40% INCREASE IN ONLINE SALES...HERE IS HOW!
How The Foundation Programme with Biscuit increased VIRG's online sales by 40%!
Back up a few years.
I remember Virg from Cork.
I remember bouncing around The Fair Alternative gushing at all the gorgeous Creative goods and wishing I could actually make something cool like that.
I remember people I worked with talking about this incredible French girl, who did things her way and had an amazing positive attitude.
I remember being tipsy in The Mutton Lane sharing a lighter with a group of stylish young things, Virg amongst them.
Little did I know, years later we would cross paths again but this time not to share a lighter ( ha! social with babies eh whats that? )
This time instead of a light, my Q to Virg was…
" WHEN are you gonna sell online? WHERE is your website girl? "
Her product was really great, her style and delivery was perfect for the online branding space…
and so I pushed, because I saw the potential with this ambitious vagabond.

Virg FINALLY signed up for The Foundation Programme with me and I must say I squealed to see her name on my student list.
YES… now to make shit happen with her.
I wanted her to learn a few specific things, things I identified when I looked at her business.
🙏 She needed to understand the power of Branding, what that really meant and how she could simply apply her unique attitude and style to attract the correct buyers.
🙏 I wanted Virg to GET that her story and the way she wanted to live was a HUGE part of selling her designs.
🙏 I wanted Virg to reach that target audience that not only would buy from her but that would follow her, support her and buy continuously from her.
🙏I wanted Virg to accept that to grow a business and to make bigger money with less leg work ( literally) having an online shop was VITAL and an easier task than one would think.
🙏 I wanted her to know she was brilliant, that she could inspire and impact shitloads of peoples daily lives.


THIS is the type of thing I work heavily on with my students.


Unlocking what is already there to make sure you are sharing your gold.
2 years later Virg has built a very successful online and offline business and has tapped into her GOLD.


WOULD YOU LIKE TO TAP INTO YOUR GOLD?
EVEN IF YOU THINK YOU HAVE NONE!
IT IS THERE I KNOW IT…
So let's see how Virg tells her experience
with working with me shall we….?
Q: Virg what do you do, in a nutshell like? ( yeah yeah I am from Cork )
👉 I design one of a kind kimono cardigans, small edition leather accessories and a line of metal and porcelain jewellery for the wild spirited.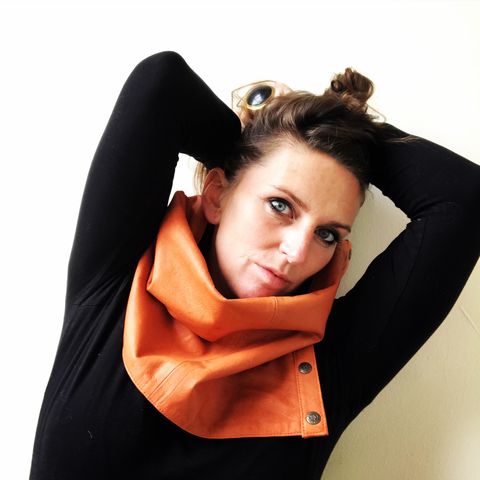 Q: How did you first hear about our The Foundation Programme ?
👉I became a member of BITE THE BISCUIT when there were less than 500 people. I first took part in the four day branding challenge and I felt that I had learnt so much that I had to join The Foundation Program to learn more and make sure to implement what I had learnt.
Q: What challenges/problems led you to explore a change in business direction?
👉 I was not believing in myself nor understood the power of Branding.

Q: What trends in your industry drove the need for you to sign up for this Programme?
👉I needed structure, I felt like a fraud, I thought I understood my clientele but I really didn't

Q: What were you looking for in a solution?
👉More revenue from online sales, more understanding of social media
Q: Did you look at other business programmes or courses and what made our solution stand out over others that you researched?
👉I always look at courses online and keep training myself with up to date strategies.
However, I do not think there is another community as supportive as your one and also the people I trained with over the years have become life long friends. The fact that we can pick up the phone to share the good and not so good moments for support - is invaluable. I would feel so alone in my corner if it wasn't for The Biscuit Community.
Q. What feature of The Foundation Progamme was most appealing?
👉Tara forcing us to do live videos and telling us that people wanna buy from people. It is the strength of my business today. Well it was my strength - I just hadn't realised it then.
Q. How did you implement/introduce The Foundation learning?
👉I forgot 90% - but kept the best 10% to me in mind
Q. How has The Foundation programme helped your business since you took it?
👉The support from my peers, and as I explained, being a bit more personal about my process, sharing live videos of not only work related topics but every day life has been helping me building a bridge to get to know my customer and vice versa.
Q. Has the Foundation learning made you more money or/and increased productivity?
👉I am at half my income coming from online sales now, and The Foundation is the reason behind it.


Q. Can you share any metrics/KPIs that show the success you have enjoyed with our service?
👉The more hard numbers, the better. 50% my revenue now comes from online compared to maybe 10% before so 40% of an increase.
Q. What have you been most impressed with?
👉The power of the community created at the time of the course. The mine of information I have learnt not only from Tara but also from my peers on the group
Q. Do you think you could go back to The Foundation and learn from it even after you took the course?
👉For sure
Q. Is there anything else we should know?
👉I think the instagram part needs an additional coach who has a huge successful account for people who are already using instagram. I felt that part was too basic and no necessarily agreed with the strategy which is ok too.


So that was Virgs' experience and honest feedback from doing The Foundation with Biscuit.
Thanks Virg x

🤩I really want to highlight that this is a Foundation programme so if you are looking, as Virg mentioned re: Instagram, for more strategy training and advanced social guidance then watch out for Biscuits impending Advanced Programme coming out in 2020 which is currently under development. 🤩